HOW IS THE HOUSING MARKET
Mirroring the weather, Fraser Valley's hot housing market cooled slightly in June going from a boil to a simmer
SURREY, BC – Sales on the Fraser Valley Real Estate Board's Multiple Listing Service® (MLS®) remained robust in June however, for the first time since last September, monthly sales did not break a historical record.
In June, the Board processed 2,247 sales on its MLS®, a decrease of 24 per cent compared to May and a 31 per cent increase compared to June of last year. Sales continued to remain elevated compared to a typical June – 22 per cent above the ten-year average.
Larry Anderson, President of the Board, said, "In June, we shifted from an extreme seller's market to a strong seller's market. Although demand for Fraser Valley homes remains very high – over 40 per cent of active listings sold in June – we're seeing the market settle down giving buyers and sellers more room to maneuver.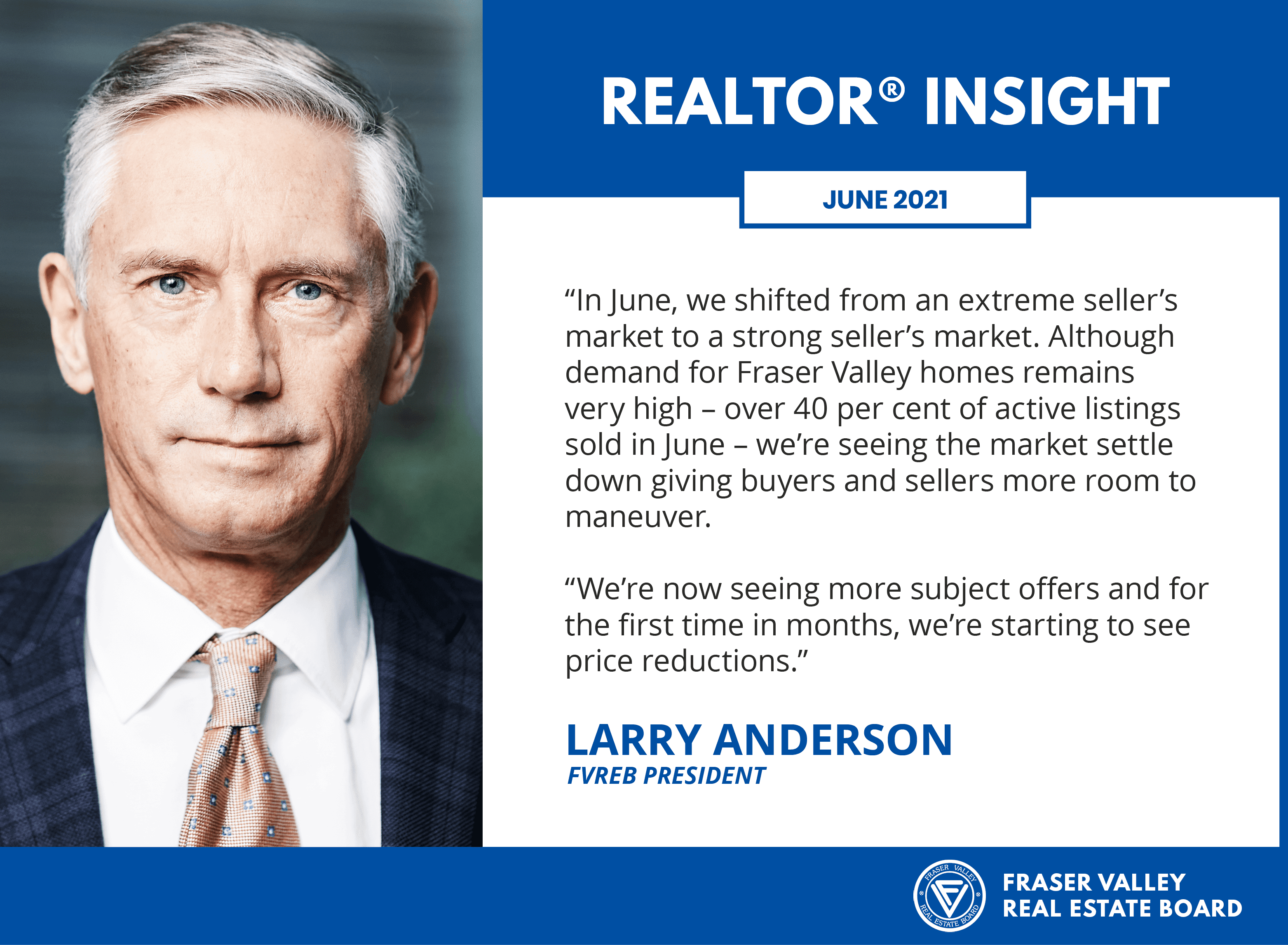 "We're now seeing more subject offers and for the first time in months, we're starting to see price reductions."

In June, the Board received 3,108 new listings, a decrease of 10 per cent compared to last year, and a decrease of 21 per cent compared to May 2021. The month ended with total active inventory sitting at 5,474, a 7 per cent decrease compared to May, and 22.5 per cent fewer than June 2020.
Anderson continued, "A lack of supply continues to be the single largest factor affecting the market. Simply put, to meet current demand and get back to balance, we need about 3,500 more active listings in our region."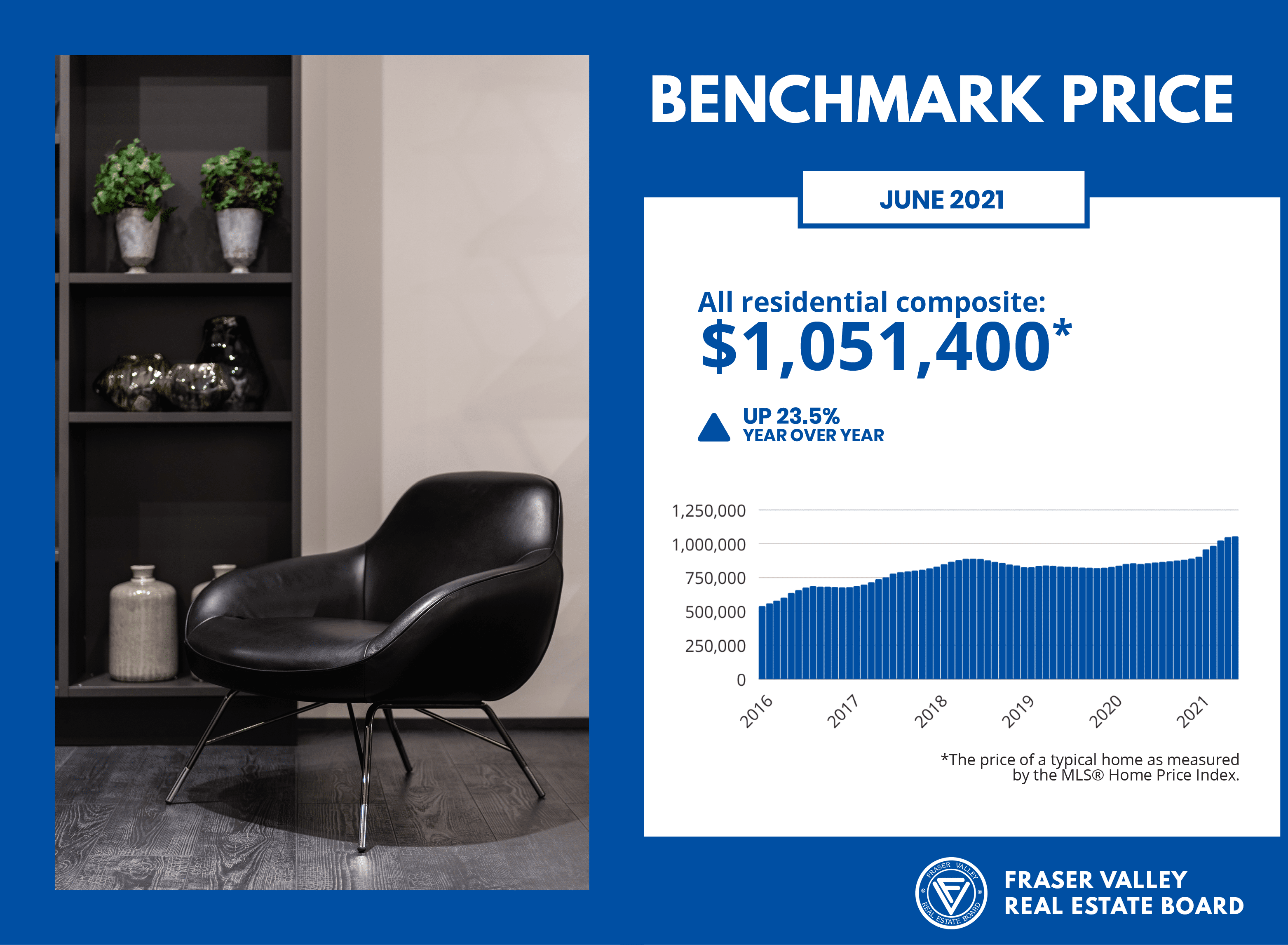 Baldev Gill, Chief Executive Officer of the Board, added, "Effective July 1, as part of Stage 3 of BC's Restart Plan, REALTORS® are again allowed to hold in-person showings and open houses while continuing to adhere to public safety recommendations."
"For more than a year, our industry has put tremendous effort into keeping the public safe and we will remain vigilant. We'd like to express our sincere appreciation to the public for your continued support and cooperation."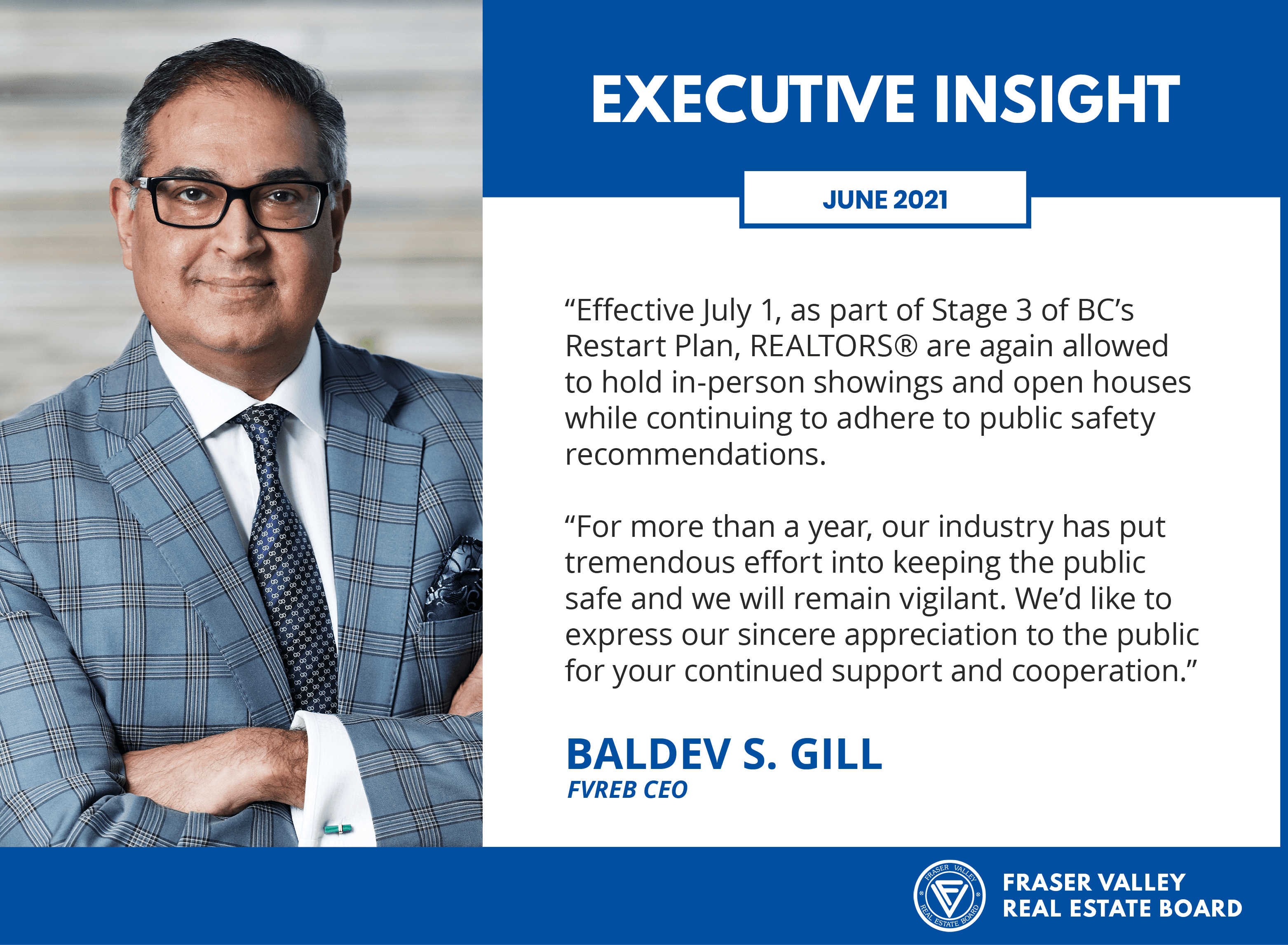 Across Fraser Valley, in June, the average number of days to sell a single-family detached home was 17 and a townhome was 12 days. Apartments took, on average, 21 days to sell.

MLS® HPI Benchmark Price Activity
Single Family Detached: At $1,324,400, the Benchmark price for an FVREB single-family detached home increased 0.1 per cent compared to May 2021 and increased 33.2 per cent compared to June 2020.
Townhomes: At $678,400, the Benchmark price for an FVREB townhome increased 1.3 per cent compared to May 2021 and increased 21.2 per cent compared to June 2020.
Apartments: At $493,500, the Benchmark price for an FVREB apartment/condo increased 1.0 per cent compared to May 2021 and increased 13.4 per cent compared to June 2020.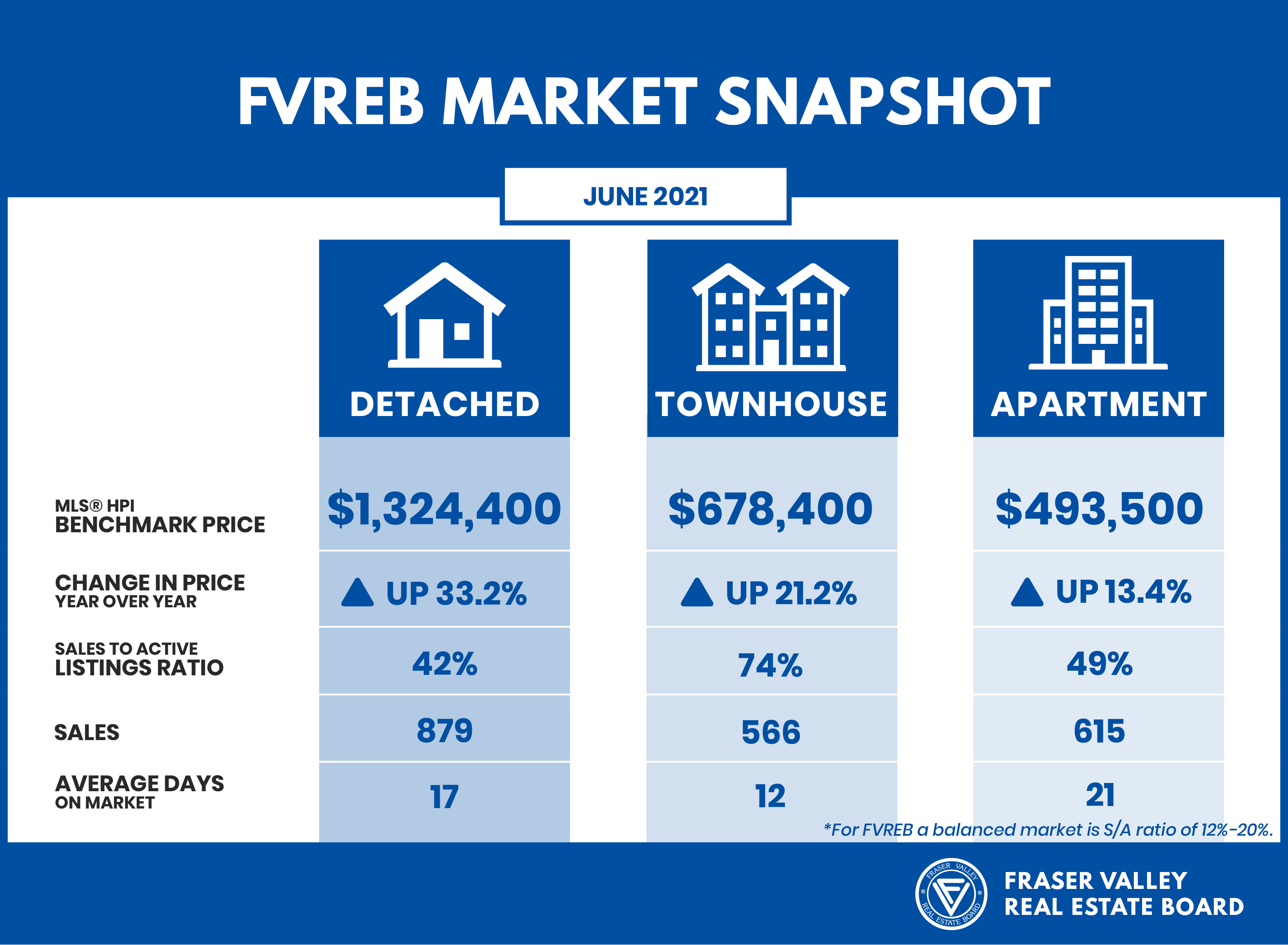 For a full Market Statistics Package, please click HERE
Testimonials
" She was very helpful and always attentive, she was ways available and made things very easy to understand. She was very knowledgeable and always had an answer. She made the process simple and quick for me. "
- Juan Guo
" Overall an awesome experience working with Elena! Would highly recommend her to anyone! "
- Cindy B.
" Elena has been an amazing partner to have during my home buying process. She was always available whenever I needed her to look at a place or answer my many emails, texts or phone calls. I really appreciate all of her time and hard work on finding us the right place at the right price. "
- Amanda Dykstra
" No words could express our gratitude to Elena. She is an energetic, friendly and experienced realtor. We were a fairly new family to Canada and we decided to buy our first home here in Abbotsford. We were going in empty circles asking and being given different information every now and then till we met Elena as a realtor for a townhouse compound. She was such an experienced lady and full of information regarding houses in Abbotsford. She was so helpful in showing us around different houses at different days. She would never say "no" even if it was her day off or lunch time. Friendly and with a smile on her face best describes her every single time she shows us a house. Sometimes we would need two showings for one home and there she was so prompt in timings and very much open to our weird questions. Explaining all details and fetching help was one special characteristic of Elena. She never left us with questions and always ready with convincing answers. We were successful through her great help and guidance in purchasing our very first home in Canada. Her help did not stop there but continued till receiving all papers and she spent great time explaining all needed details for a first time home buyer… not forgetting receiving a remarkable gift for this occasion from Elena. Thank you Elena for all your help and you deserve the best… Saying thank you in different languages might express our family's gratitude… Merci….Shukran….Shukria…Danke... Dhan'yavada…tesekkür ederim. "
- A. Najim
" Elena went out of her way to get me a condo that would would work best for me. She was able to get me all the information that I needed and answered all my questions. Her interest in her clients and making them happy is her priority. I Highly recommend her. "
- Sina S.
" Elena is eager to help her clients find their new homes. She promptly answered requests for information via the internet and telephone, searched out all sources necessary to gather the information we requested, organized visits to properties effectively with a good use of our time, met us at the designated times and places on time, listened carefully to our needs and expectations, searched out other properties that might fit our needs and suggested visit, maintained communication with us frequently when we were not actively seeing properties, gave advice and made suggestions, solved problems that arose, took the initiative to address future needs and considerations, was always pleasant, thoughtful and friendly. She is keen to meet clients' needs and produce satisfactory results. "
- Arlene and Keath R.
" Elena is a helpful and professional agent. We had a very satisfying experience working with her. She were able to find us a home that fit our needs. Elena was very patient with us, knowledgeable, efficient and fast. Our family highly recommend her to everyone that in a need to buy or sell their house. Thanks for finding us our perfect home. "
- Tetiana Y.
" When the family decided to purchase our first house here in Canada, we decided , we need a realtor to assist us in so many aspects of buying our first house. Elena has been very patient, listening to all various needs and wants of our family. Having teenager kids, made it even more exciting as they too have their own preferences. And I am thankful to have Elena by our side all the way. we are so grateful that we even recommended her to two or our friends, And those friends had the same experience as well. "
- Tess and Leo Villanueva
" Elena has been very professional from the start to end. Thru out the process, Elena has educated me in the dealing with buying property. Elena also, asked permission for consent before passing my contact numbers to other parties. Elena guided me thru finding the right unit, helped me in timely manner to clarify issues, and responds back immediately between parties. She is very helpful in making this purchase comes thru, even though in most challenging situation of my case. Elena has proven herself as a professional real estate agent. "
- Regina Sunderland
" Elena, is an amazing realtor. She works for her clients paying attention to details, ensuring things are done properly, and being there when you need her. I appreciate her professionalism with both properties she's helped us buy and we'd gladly work with her again! "
- Denise Clark
" Great job !Always on time ,and really helpful and fast with the work. THANKS LOOTS "
- Anna Nickel
" We found Elena to be everything one could hope for in a realtor and more. we have never gone through the process of buying a home on my own before and we also wasn't familiar with the real estate market in the area. From day one, Elena directed us and explained the overall process involved in buying a home. She was a pleasure to work with, for two simple reasons. One, her expertise of both the real estate process and local real estate. Her knowledge of Abbotsfordis unmatched. Second, and more importantly, she is an HONEST person. There is no better quality to have in a person (let alone a real estate agent). we had many bad experiences with different real estate agents throughout the our search from the very beginning . Elena was a breath of fresh air, She was easy to work with, knowledgeable and always very accessible. I would highly recommend you meet with Elena Schneider if you are considering selling or buying in Abbotsford. Thank you, Elena for making a difficult process run smooth! "
- Gurleen and Dalbir
" It was our pleasure having Elena Schneider as our Agent. Very resourceful, knowledgeable, proactive. If in the future I will need to hire an agent I will use Elena Schneider again. Thank You Elena for your hard work in helping us selling our property. Warm regards, Boleslaw Mlodawski "
- B. M.
" She works fast and accurate, very devoted in her job. In just 2 weeks my house been sold. She worked hard able to sell the property in no time. Highly recommend her to others . Thanks ELENA "
- Alice Nicdao
" Elena is a very good real estate agent. She takes her job very serious. Very responsible. She did her best to meet my requirements. We had a very pleasant cooperation. "
- Amy
" She will give you her devoted time and effort to satisfy all the wish lists in buying a house. All paper works were done in proper time. I have established my good friendship with her. Further, I'm very happy and peacefully living in my own space now. Thanks Elena. "
- Mary V.
" Elena It was a pleasure having you as our realtor, always on time, great communication, you worked hard to met all my requirements, would always recommend you! "
- André
" Elena is an incredible agent! She, being nothing less than professional and dedicated, helped us find the perfect condo that met our needs and then was there 100% to help us through the purchase process. From start to finish she was amazing and we feel very fortunate to have chosen her! Thank you Elena! You're the Best! "
- Jennifer Sweet
Previous
Next